Re: First Custom Build
---
When I blueprint an action I take out all of the inconsistencies from the factory production tolerances. I base all my cuts off of the center line of the actions bolt bore. I use GTR tooling to indicate the action in true axial alignment to less then .0002" I then single point face the action and internal locking lugs just enough for a full clean up. I then single point bore the tops of the threads for a full clean up keeping track of the amount of material removed. I'll then pick up the thread pitch and single point re-cut the threads true. When finished you'll have a production action that has all critical surfaces true to the bolt bore center line. I'll transfer these measurements onto the new barrel tenon when chambering the barrel. I then indicate the bolt in true in a Labounty bolt fixture and single point cut the the locking lugs and bolt face true. Cost for a full action blueprint like this is $150.

The Timney is another good choice for a aftermarket trigger.

With proper bedding, scope installation and loading you'll have no trouble shooting 3 shot 1/2 moa or less.

The 260 Ackley is another fine choice. I personally have not been able to get as good of results long range with the 120 grain 6.5mm bullets as I have been using the 140 grain 6.5mm class bullets mostly due to a better B.C. Your velocity is a little slower around 2850 fps with a 140 grain bullet but in a 1-8 twist barrel you'll get very good results.
__________________
Home of the "EXTENDED IMPACT" DVD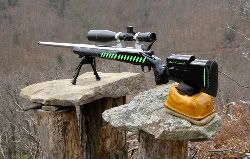 www.mcrifles.com