Re: Which Factory action for a semi-custom rifle???
---
Dont take this as gosple truth, but I think yhe Ruger will be easier/cheaper to find parts for. Dont know for sure, but that'd be my vote.
__________________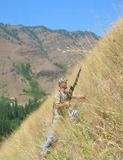 "Its not Rocket Surgery.....'
GOD,GUNS,&GUTTS MADE AMERICA, LETS KEEP ALL 3!winmag
"I have No idea why that cop made me ride in the back seat, when I Clearly called Shotgun!"