Re: Is enough ever realy enough?
---
Hey sp6x6,
Did you use that .325wsm on those deer/ pics from another post/ Isnt that something like an 8mm short mag? 300ISH TRAJECTORY, W/ 338ISH ENERGY?
Nice bucks by the way!
__________________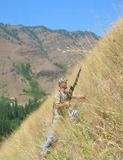 "Its not Rocket Surgery.....'
GOD,GUNS,&GUTTS MADE AMERICA, LETS KEEP ALL 3!winmag
"I have No idea why that cop made me ride in the back seat, when I Clearly called Shotgun!"