Quote:
Originally Posted by
royinidaho
Interesting discussion.

What if a 130 grain bullet of similar construction were fired at similar velocities from 25/6mm/7mm/30/8mm cartridges into gel or other terminal performance material? It would seem to me that the larger the caliber the more violent the results and possibly less penetration due to larger frontal expansion. Dunno though.....
More "violent" yes, probably so. But what about Sectional Density's effect on terminal performance, & penetration?
Too many odd ball factors to do an apples to apples test even with same bullet wt., construction, & speed isn't there?
Either way, it'd be a cool experiment I guess.
You gonna fire up your blue buckets again when you get home Roy?
__________________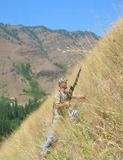 "Its not Rocket Surgery.....'
GOD,GUNS,&GUTTS MADE AMERICA, LETS KEEP ALL 3!winmag
"I have No idea why that cop made me ride in the back seat, when I Clearly called Shotgun!"