Re: Bolt action
---
If you only had trouble opening the bolt its usually a tell-tail pressure issue.
If you had the problemb closing and opening the bolt then its probably a sizing issue.
How far are you bumping your shoulder back when re-sizing?
I had a simmilar issue a while back for closing and opening my bolt. My die was cranked all the way down to where the shell holder at the top of the ram hit the die on the cam over. I couldnt go any smaller, and was sure I had to be at factory specs. Turns out I was wrong. I wound up making a .030 shim out of paper and tape and inserted it into the shell holder under the brass before I sized. Worked like a charm. (only good for about 12-18 cases per shim, as the paper and tape ware out quickly).
__________________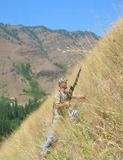 "Its not Rocket Surgery.....'
GOD,GUNS,&GUTTS MADE AMERICA, LETS KEEP ALL 3!winmag
"I have No idea why that cop made me ride in the back seat, when I Clearly called Shotgun!"