Re: Any experience with Win. Coyote Lite .270wsm?
---
Haven't tried the coyote LITE yet, but id like to. Every Model-70 Coyote I've ever shot, or loaded for was easily sub MOA. I shot a ONE TIME 3 shot group at 100 with my cousins .270WSM Coyote, & my handloads that grouped just over 1/4". Normal groups for that rifle tho, were 5 shots, & 5/8 to 3/4" groups at 100 with my handloads. Great rifles, & well put togather. However, with any factory rifle, of any brand, you run the risk of coming up with a bad one like Ironworker got. That sucks.
__________________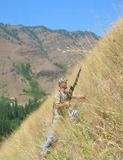 "Its not Rocket Surgery.....'
GOD,GUNS,&GUTTS MADE AMERICA, LETS KEEP ALL 3!winmag
"I have No idea why that cop made me ride in the back seat, when I Clearly called Shotgun!"