I don't think you can go wrong with either the .300 Win Mag or the 7MM Mag. However, my personal choice is the .300 Win Mag. The .300 Win Mag is my go to caliber/chamber from antelope size game and up loaded with 200gr+ pills.
As far as your devastation question, as always shot placement is key!
(I harvested with 200 NAB off SAKO M995 .300 Win Mag, 2011)
(My buddy harvested with 180gr Berger VLD off Weatherby 7MM Mag, 2011)
Both speed goats were taken between 200 and 250 yards, heart/lung area and were DRT. Other than a couple of busted ribs, no serious meat damage on the little critters.
Good luck!
ADDED
: I've also used 178 and 208 A-Max on antelope and deer with similar results. I'm pretty sure that if you hit any bones, i.e., shoulders, it'll be a different story.
__________________

I voted for my "FREEDOM", "GUNS", and "MONEY" - keep the change - UNK.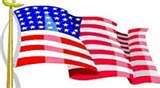 "I am always proud of my country!"
"Leadership Rule #2: Don't be an ***hole." - Maj Gen Burton Field.