Re: 300 WBY magnum load help
---
IMR-4831, & IMR-7828 are great powders for the 300Wby with 180 to 200+grain pills.
Federal 215 primers, & most brass Wby/Norma/Nosler brass being my favorite, but Rem is fine too. But AVOID HORNADY BRASS FOR THE 300 Wby! It's terrible to work with & way too soft for this cartridge. I learned the hard way.

A 180Accubond @ 3100fps @ 3800' A/S/L will still have aprox. 1800fps & 1500 ft lbs of Energy at 840-850yds. This is the standard minimum velocity for reliable bullet expansion, & the standard minimum ft lbs recommended for Elk. If its just Deer 1100 ft lbs as a minimum will do.

Any 180gr + bullet, even at modest (for Wby) velocities will easily do what you stated for 300lb critters at 500 yds.
__________________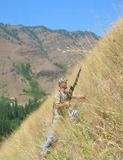 "Its not Rocket Surgery.....'
GOD,GUNS,&GUTTS MADE AMERICA, LETS KEEP ALL 3!winmag
"I have No idea why that cop made me ride in the back seat, when I Clearly called Shotgun!"