Re: 270 Win and 165/175 Matrix Range Report
---
Quote:
Originally Posted by
270 MKV
I can't go over 57.5 grains of H1000 without overly flattening primers and occationally getting some gas leakage around the primer. These loads the 165 Matrix at 2840.

I am starting to transition over to Retumbo for these loads...I can get some additional velocity...close to 2890 before I get into pressure signs.

H1000 is now the go to powder when using the Nosler LRAB in my rifle.
That's actually pretty good out of a 27". I was getting the following out of a 30" for 165 Matrix while fire-forming to .270 AI:
57.5 grains of H1000 = 2801 FPS (no pressure)
58.5 grains of H4831SC = 2981 FPS (no pressure)
__________________

I voted for my "FREEDOM", "GUNS", and "MONEY" - keep the change - UNK.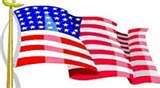 "I am always proud of my country!"
"Leadership Rule #2: Don't be an ***hole." - Maj Gen Burton Field.