Winchester Model-70 Extreme Weather
Winchester Model-70 Coyote Lite
Or better yet, go buy a Model-70 at a pawn shop for cheap, then send it to one if the many great sponsor/gunsmiths here, & have them square it, re-pipe it float, & bed, for about what a new rifle costs. That way you have a known accuracy standard, & a semi custom.
Those would be my first choices, but I'm a Winchester guy.
__________________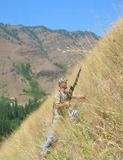 "Its not Rocket Surgery.....'
GOD,GUNS,&GUTTS MADE AMERICA, LETS KEEP ALL 3!winmag
"I have No idea why that cop made me ride in the back seat, when I Clearly called Shotgun!"