Re: Is this too much paralax??
---
Quote:
Originally Posted by
kraky
Was at the range today with a buddies rifle working on some loads. He has a newer high end Leupold scope with 3.5-10 reticle.
I noticed by moving my head as much as I could side to side I was able to move the cross hairs totally accros a 3" dot at 200 yds. It would be my opinion this is too much....possibly 1" should be about max? Input please...should we call Leupold??
If its a fixed paralax scope theres only 3 options that I know of to try. If the eye piece ''focus'' is clear and sharp and you still get paralax, that eliminates one of them. Try to find out where the paralax is set to from Leupold. If you cant get the cross hairs steady at that range then you can get ahold of Leupold and they can re-set the paralax.
Only other option I can think of after that is to sell it. And with a Leupold, finding a buyer might take all of 5 seconds.
Good luck
__________________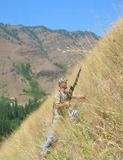 "Its not Rocket Surgery.....'
GOD,GUNS,&GUTTS MADE AMERICA, LETS KEEP ALL 3!winmag
"I have No idea why that cop made me ride in the back seat, when I Clearly called Shotgun!"