Re: Please help
---
Remember it this way
It's easy to read a "CLOCK" that's "UP-RIGHT".
Broken down that means clockwise moves your CROSSHAIRS UP & clockwise moves your CROSSHAIRS RIGHT on Leupold, & Burris etc etc.
Clockwise does not move BULLET IMPACT in the same direction.

Example
Shoot a Target at 100yds. You hit low & left.
You hold the rifle exactly as you did before, on the bulls eye, & dial your crosshairs over & down to poi which would be counter clockwise on both turrets. Then fire again at bullseye to confirm your adjustments. Then move out to 300 or so to fine tune it.
__________________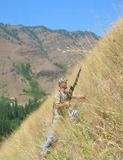 "Its not Rocket Surgery.....'
GOD,GUNS,&GUTTS MADE AMERICA, LETS KEEP ALL 3!winmag
"I have No idea why that cop made me ride in the back seat, when I Clearly called Shotgun!"