Re: best scope for Marlin XL7 .30-.06 $100-$200?
---
Best scope for $1-200? Well IMO
1) Burris FFll
2) Nikon Buckmaster
3) Leupold VX-ll/ or Nikon Prostaf
There are Many other opinions on this subject, but these are my choices for an inexpensive($1-200) scope based on experience. Upgrades when $ alows are nice, but at least you have (quality/affordable) optics in the meantime. Good luck
__________________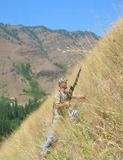 "Its not Rocket Surgery.....'
GOD,GUNS,&GUTTS MADE AMERICA, LETS KEEP ALL 3!winmag
"I have No idea why that cop made me ride in the back seat, when I Clearly called Shotgun!"