The Swarovski ballistic turret and the Kahles MultiZero are different from regular turrets for 2 reasons:
1. They have a zero stop, that is you can zero your rifle and then set the turret to stop at that point after clicking elevation and then coming back. Regular ballistic turrets can be made to read zero at where you sighted your scope in (resettable to zero) but they can be rotated past that point and it is even possible that you could accidentally rotate a full turn and be way off without knowing it until you shoot. I think there are some others that function similar to a zero stop such as Vortex and maybe something Leupold is doing.
2. The turret markings are not permanent, IOW they can be changed to fit your ballistics. There are aftermarket turret caps that you can order to fit the ballistics you are shooting but if you change those ballistics or move the scope to another rifle then you have to get new turret caps.
I have 2 of the Kahles MultiZeros and a Zeiss Diavari with what they call the hunting turret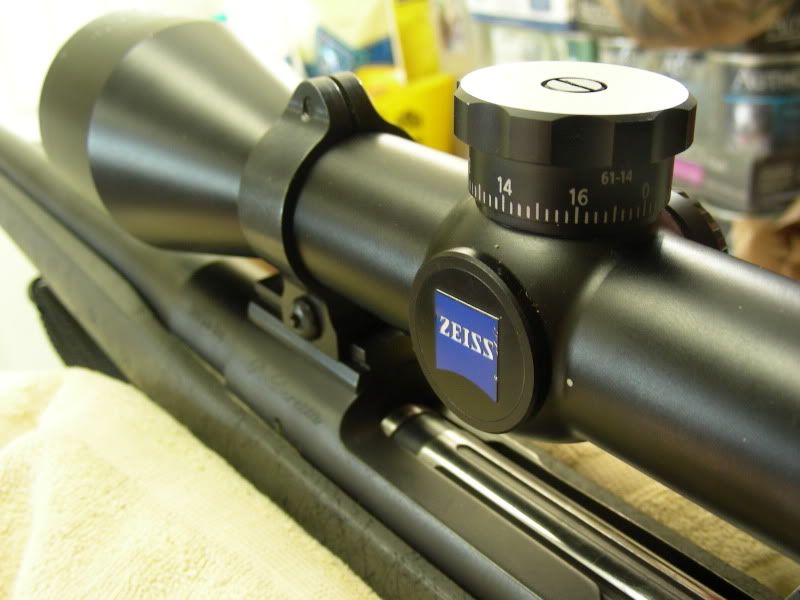 If your Zeiss already has a turret then the aftermarket ones will fit on it. If it does not then you have to send the scope to Zeiss to fit the turret on (~$150.00) before the aftermarket turret will install. Some of the Zeiss' reticles can be change to their RapidZ reticles (I have one of those).
Personally, if I were in the market for a new scope then this deal can't be beat
Kahles Helia CL 3-10x50 Scope w/Plex Reticle & MultiZero™ New
the Kahles 1" tubes are discontinued now since Gamo picked up the distributorship but you will be able to get the MulitZero in 30mm tubes soon and service is available
http://www.kahlesusa.com/Kahles-Inno...tizero.html#MZ
I have 3 Kahles, a Zeiss Diavari, an IOR and a Zeiss Conquest and would rate the Kahles glass with the Diavari, Swarovski, IOR, S&B.
But the answer to your question is; no, Zeiss does not have a ballistic resettable turret comparable to the Swarovski or Kahles at this time (to my knowledge)