Re: 20 MOA 2 Piece Base...
---
Quote:
Originally Posted by
cohunter14
Does anyone know if someone makes a 20 MOA 2 piece base for a Remington 700 in Silver? Nightforce seems to be the only 2 piece base I can find, and their's is in black only. Thanks for any info!
Try
Pierce One Piece Scope Rings : Pierce Engineering
__________________

I voted for my "FREEDOM", "GUNS", and "MONEY" - keep the change - UNK.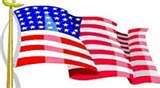 "I am always proud of my country!"
"Leadership Rule #2: Don't be an ***hole." - Maj Gen Burton Field.