Took my son out for some groundhog hunting and deer scouting this weekend and had a great time. We started off the evening with some ground hog hunting. We went out and set up on a ridge for some glassing were I have shot several ground hogs from, after setting there for about 15 minutes I spotted a small pig standing on his hind legs directly in front of us 229 yards out in some tall grass. I pointed him out to my son and he got set up. Well at that point the ground hog proceeded to play now you see my now you don't for a couple of minutes. He would eat a little and then stand up to check his area then quickly drop down for more clover. After about the third time he raised up my son said "Dad the next time he stands up I am going to bust him!" So we waited for him to stand up again and I told the little man to take the shot. He squeezed the trigger on his Remington 243 and the ground hog went for a flip, then the high fives started.
I was very proud of him!! He has been shooting for a few years now and shoots very well. He has killed 6 whitetails so far but there is a big difference in shooting a deer grazing in a field at 100 to 125 yards then shooting something as small as a ground hog at 229 yards. He will be wanting his own Edge before I know it!!
This is taken standing at the place he shot from, if you look close you can see him at the end of the red line in a blue shirt. I forgot the camera and had to go back while he sat checking out his kill.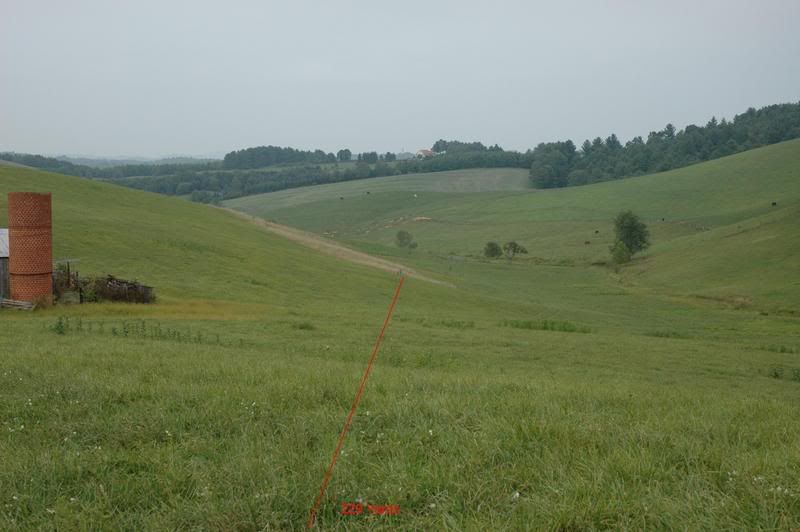 This is proud hunter pointing back were he was at. (The Red Dot marks the spot)
The proud hunter!!!
A look at a nice 8 point that the little man says "will be next come November". He says "I am 8 years old and I need that 8 pointer Daddy!" I will do my best to get him the opportunity to get a shot at him this fall!
Just had to share my great weekend, hope you enjoy!!
Thanks,
Oneshot