Andy, its quite funny. my rifle started of as being exactly the same rifle as algs rifle, a remington 700 custom shop mountain rifle KS. only difference was the caliber. Mine under went the action bieng trued, the off centre scope mount holes bieng redrilled on line and tapped 8-40, badger bolt knob and the handle is screwed on similar to the way Geof Hicks does it, Its got a Border cut rifled stainless fluted barrel in 30-06, thats threaded for a Brugger & Thomet moderator, badger recoil lug, picatinny rail, and 34mm rings. trigger has been standard remington up to now, i was trying out a rifle basix on it lately. Stock, usualy a HS thumbhole sporter, but in this case a take of sendero stock. whole thing is coated in Balnit C. It loves hornady factory ammo with 180gr bullets, hates bullets lighter than 168gr. its on barrel number 3, ive had about 9500 rounds through the action. I'm pretty much attached to the thing, seen and done a lot together.
Canuk, we boiled the head off (well actualy alg got some one to do it for us, as neither of our wives where perpared to put up with the stink, there's another head in algs freezer, but don't tell his missus).
Like alg said, the 4-16x50PMII was superb for this kind of hunting and the Leica Geovid 10x42 BRF performed excellently also.. it is so much easier having bino's and LRF in one unit.
Ive invited alg over for the 2006 IWA so we should get time to sample some beers then, either there or on another hunting trip together. heres the man himself,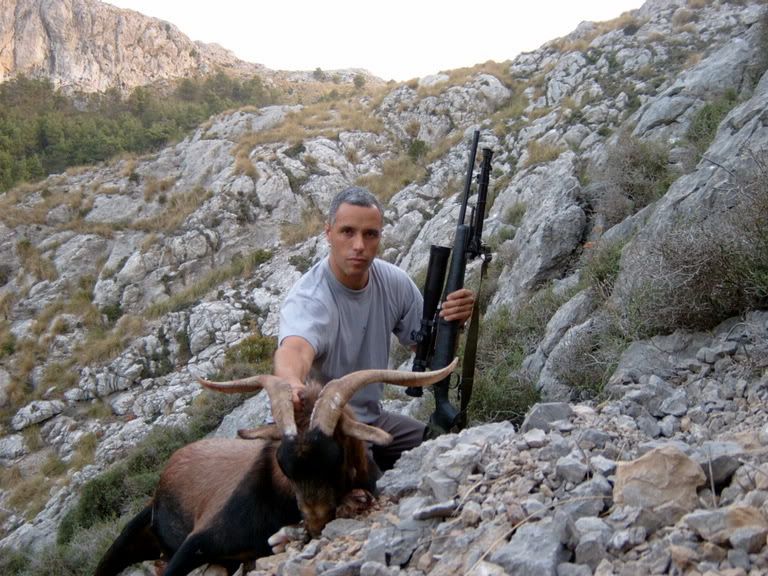 Pete