So I took a picture, and it really is worth a thousand words. We've been selling DTA's for a few months now and this is the first HTI we've got in.
Top is a standard DTA SRS with 22" 308 conversion and YHM brake.
Middle is a Rem700 AICS with 20" 308 barrel and YHM brake.
Bottom is DTA HTI with 29" 50bmg conversion and brake.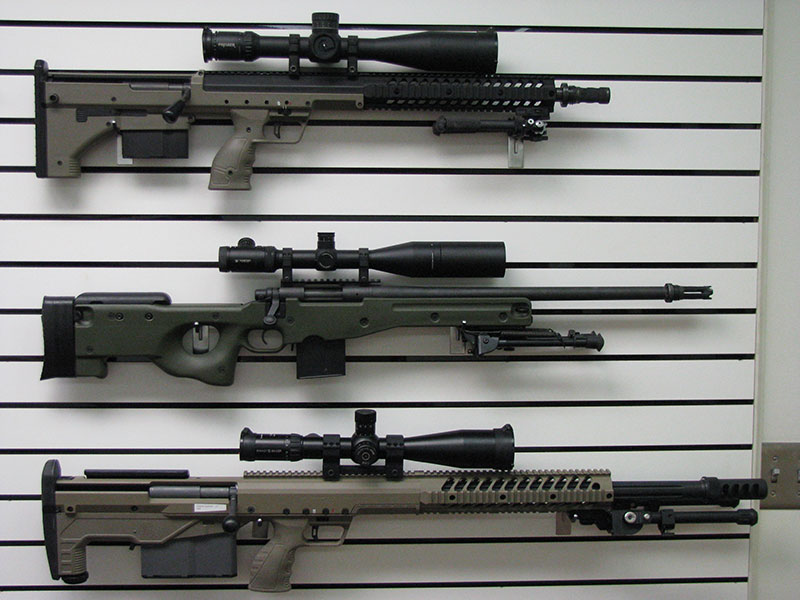 I can grab this 50 with one hand, and RUN around with it. Going through doors is a breeze. Getting into firing position is easier than any other 50 in existence. The bolt lift is kind of a bitch, but necessary to ensure positive extraction. I'm sure as its shot a bit, it will break in. Length of pull is a bit longer than I'm used to. You can see the difference in the above picture. Grip is a bit farther forward to accommodate the long rounds.
Anyone that has ever ran a big 50 and actually had to carry it around in the field and use it knows how big of a bitch it can be to haul around. This is the most portable big boomer I've ever used.
Weight as pictured with an empty magazine, bipod, mount, and optic is exactly 25lbs. Yet just like it's smaller brother the SRS, it has exceptional balance that makes it feel about 40% lighter than that. I can't wait to get some real time behind this thing. I've got a lot of load development to do for it, so I'll be sending heat for quite a while. It's nice to see a big fat squishy buttpad on this thing.