Re: Elevation Dial Label - Testers Needed
---
Quote:
Originally Posted by
sxwatson
Winmag,

If you are interested I would like to run a label for a scope you have that already had a BDC on it to see how the label matches up with the BDC turret.

Scott
Well I have a Nikon Buckmaster with a B.D.C. that I may mount on my 300wby untill I can afford the scope I want (mark 4) But its kinda spendy to shoot my wby. So untill I get the scope I want Ive been neglecting it to save $. Is that a sin? I think it is. But as of right now its about all I can do to load for and stay practiced with my 270wsm and dads 270wsm. We wanted to find a load that shot well out of both rifles, so I have his for testing. So far two different loads shoot sub moa out of both rifles.
I have a Burris FF2 4.5X14 P/A with a bplex that I have about dialed in as good as I can get it to 600, on my 270wsm, and my dads 270wsm has a 4.5x14 Buckmaster A/O with standard duplex if you wanted to compare same caliber same load. Id go for that in a heartbeat. Only 1 label for the Nikon and we could do some testing. Both are on med. Leupold mounts and rings so center of bore vs center of crossharis should be pretty darn close to the same and both are on Model-70 winchester featherweights. Cant get too much closer for a comparison unless I swich scopes. And I realy dont wanna swich scopes.
__________________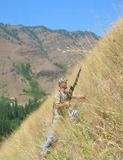 "Its not Rocket Surgery.....'
GOD,GUNS,&GUTTS MADE AMERICA, LETS KEEP ALL 3!winmag
"I have No idea why that cop made me ride in the back seat, when I Clearly called Shotgun!"