Ive been pondering this for a med/long range build for a while, but cant seem to find ANY place to look........ Anybody know who makes an AR in a 300wsm? (NOT 300saum). Where do I look? What brand? Where do I go to get aprx pricing? What do I need to wach out for? Completely new territory for me here
So if you can point me in a direction, or have any advise Id appreciate it.
Im 100% sold on the 300wsm for caliber. I own a bunch of Winchesters in some great calibers already so I want a 300wsm but I dont even know if they chamber for it in an AR.
Thanks in advance for any info guys.
__________________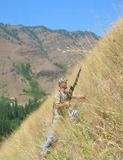 "Its not Rocket Surgery.....'
GOD,GUNS,&GUTTS MADE AMERICA, LETS KEEP ALL 3!winmag
"I have No idea why that cop made me ride in the back seat, when I Clearly called Shotgun!"