Re: 270 wsm opr 300 wsm
---

270WSM- Factory Win. Model-70 FWT
300WSM- Custom Win. Model-70/Hart, long action 300short mag.
If its typically Deer, Antelope, etc. & occasionally bigger game Id vote for the 270WSM. But, If Elk are consistantly on the menu I'd go with the 300WSM. Not that you really need to, as the 270WSM is a Fully capable Elk cartridge, but I like the versatility & availability of the heavy, high B.C. & S.D. bullets already available in factory twist barrels in the 30 cal. Especially where big critters, at a wide variety of ranges are concerned.

Like I said, I love em both, & wouldn't part with either one!
__________________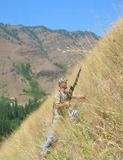 "Its not Rocket Surgery.....'
GOD,GUNS,&GUTTS MADE AMERICA, LETS KEEP ALL 3!winmag
"I have No idea why that cop made me ride in the back seat, when I Clearly called Shotgun!"