LMT and MEGA arms make them, well MEGA did make them but they were sued by LMT due to pattern infringement. It never went to court MEGA just stopped making them. They did offer the CNC machined upper and lower option and they still do just not in the monolithic. But to be clear upper and lower receiver play in normal in an AR system and has little to no effect on the accuracy of the weapons system. Anyone who claims that it does is just misinformed, does it feel nicer to have a tight upper to lower fit? In my opinion yes it does and it instills confidence in ones weapon system.
Colt has one as well and they are still making them in the 6940 rifle(piston).
I have the LMT they have 6 models, this is the CQB chassis. In hindsight I would have gotten the full length upper. The best part about LMTs system is its adaptability, I can go from the 16" standard 5.56 barrel, I use for training to a 6.8 or 300 BLK for hunting pigs or deer to the 204 ruger for varmints in under a minute. If I want to run a suppressor I can swap to my piston system in 10.5" or 16" . They have standard and match ss barrels for the ar platform.
If you want to step it up they offer the MRP in 308 win, 260 rem, 243 win, 6.5 creedmoor. I'm sure more barrels will follow for both platforms in the future now that Britain, New Zealand, and Australia have adopted the MWS as their sharpshooter rifles. The quality is top of the line they are iso9000 certified and in case you didn't know they only started selling guns to the public around 6 years ago. Before that they made stuff for well everyone else. If you served in the Military chances are most of your weapon was made by them.
If you like the idea but don't like any of the options, have no fear there is an option for that as well. This company will take any standard AR barrel of your choosing and convert it to work in your LMT rifle.
MRP barrel conversion
Lots of guys also send there barrels to Marvin Pitts at ADCO to have some dimpling done as LMT barrels are built for combat they have a heavy profile and the industry has a strong tread towards light weight at this time. If you have ever run through the mountains in Afghanistan you will understand this trend, but cutting weight from the barrel has to be done right, keep the big profile as a heat sink but cut the weight to better balance the weapon.
Shop/Machine Services at Adco Firearms
I think Alex is LMTs biggest proponent here is a link to his youtube page, He has developed a good relationship with Geen the engineer and Jason the head sales guy at LMT, he has written more than anyone I know.
Here is a link to Geen on LMTs page
Lewis Machine & Tool Company
If you can believe it after all this I have no connection with this company, they did give me a discount on my upper due to being in the military and I have friends in Law Enforcement who have received the same treatment. This is a top notch teir one company that will not disappoint.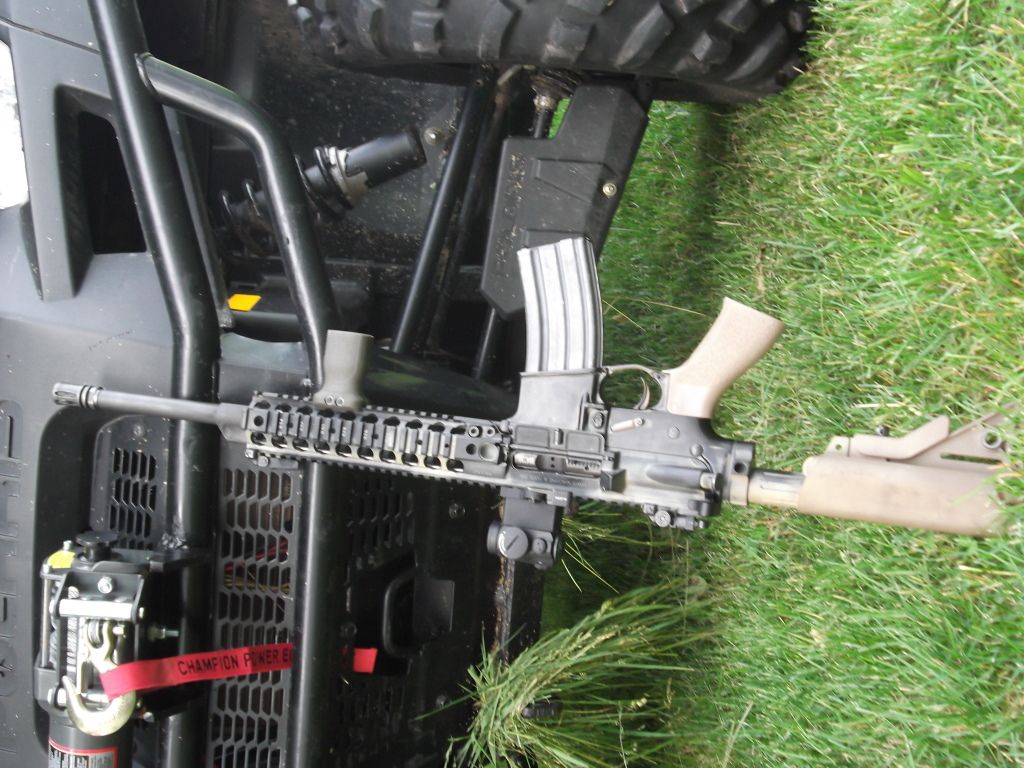 What a barrel system looks like, in this case the 16" piston barrel